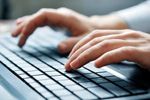 At MD Logic we simply provide the best software support in the industry. Our support team understands that in order to treat patients, doctors and their staff must have access to patient health data. The MD Logic software is engineered using the latest Microsoft.NET platform and C# development code. We utilize Microsoft SQL Server for data storage and reliability. Customers invest in MD Logic knowing our software is built with the latest technology available in healthcare.
In the event support is required, our customers are connected with a certified MD Logic software support specialist located in the USA. Over 90% of all support requests are completed while the customer is on the phone. As support requests are completed, MD Logic automatically generates an email to the customer confirming the request has been completed.
Contact MD Logic today at 800-273-7750 to learn more about our support services.